Market List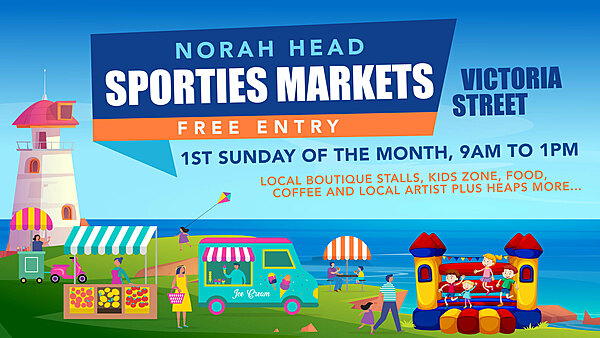 Book Now
Norah Head Sporties Markets Chris
NSW NORAH HEAD Victoria Street
Sporties Market is located at the Norah Head Bowling & Sports Club.
Held on the 1st Sunday of each month from 9am-1pm. Our Markets run on a monthly basis.
STALLHOLDERS
If you are a startup business or a regular market stall holder, workshops or entertainer we would love to hear from you. Be part of this exciting monthly event at Norah head NSW, celebrating community. Our stalls will be a blend of handmade art and design, fashion, sustainable products, lifestyle and culture. Sound like you...we'd love you to come aboard!
Stall Holder Requirments:
Must have Public Liability insurance Cert must be provided before Market day 
Must Not Use Plastic Bags for items purchased 
Markets Stalls required: We allow only upto 2 per Catergory
Tea 
Flowers
Honey
Womens Clothing 
Succulents
Plants - Indoor and outdoor
Tupperware
Bread
Fruit and Veg
Preserves - Jams and spreads
Dog stalls - Dog Treats, Dog Clothing 
Food Vendors  - Must Be approved by event Manager 
Plus any other Unique Stalls as well 
ENTERTAINERS
We are excited to showcase all the amazing talent our area has to offer. From young performers to those more experienced...we would love to hear from you.
Please Submit your application, We will review your application within 2-4 Working Days.  We will check for Facebook pages for your items that you are selling on the day. If a product is not listed on the application, You may be asked to remove this from sale on the day at the markets. 
If your application is declined, We will advise the reason for the decline, We suggest you keep a eye out for our email. If not recieved within 5 days of submitting your application, Please get in touch with us. 
If you ave any questions, Please send us a message , and we will advise you further of the any questions you may have.
If your